Platinum Builders Blog
Platinum Builders is proud to have helped Shelter Inc with the move into their new office space. At Platinum, we are always looking for new ways to give back to the communities we serve. Our donation to Shelter Inc is a way for us to do just that. We support Shelter Inc on their mission to prevent and end homelessness.
---
Platinum Builders has broken ground on a new Blue Line Pizza in Danville, CA. The new location will feature outdoor patio seating, a beautiful bar, and all the amenities you've become used to with Blue Line. This project is a complete demolition and fit-out, and will be completed by the end of May.
---
Platinum Builders recently completed this beautiful new office space for WSO2. What a fun working environment and company alike. The open floor plan is modern, spacious, and full of natural light. Take a look at the indoor rock climbing wall and bike racks.
Tags:
---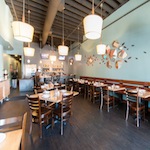 Blue Line Pizza was recently recognized as one of "The 7 Best Bar/Restaurant Openings on the Peninsula This Summer." Go check out the amazing building and awesome food! Blue Line Pizza is open in Mountain View, Campbell, Burlingame, Daly City, San Carlos, and most recently, Los Gatos.
Tags:
---
Last year, we moved our office into an industrial style space in downtown San Jose and began a complete interior and exterior renovation. Today, our office is looking better than ever. Check out a few pictures below, and visit our facebook page for more.